Skip to end of metadata
Go to start of metadata
Overview
Administration dashboard gives you an overview of all the activities you can do using the JomHoliday extension. It provides you a view of all the menu items, system configuration checks, license information, and links to the documentation.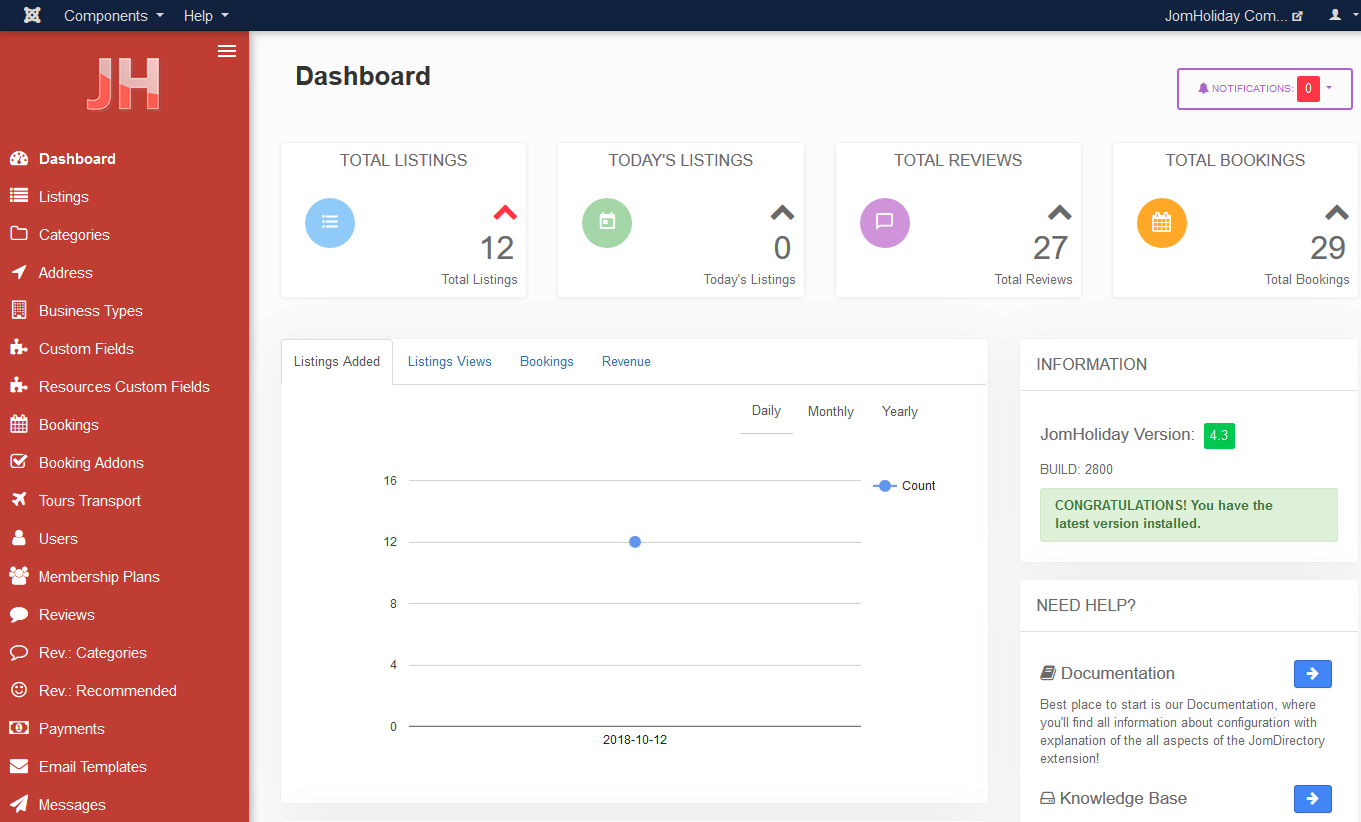 Screen 1: Dashboard screen
Menu Items
The menu items are present in a grid format format for easy access. The following image shows the Menu items present on the dashboard screen.
Screen 2: Menu items area
The following table provides an explanation about different menu items available:
| Menu Items | Usage |
| --- | --- |
| Dashboard | Home or dashboard for the JomHoliday extension |
| Listings | Shows the Listings administration screen |
| Categories | Shows the Categories administration screen |
| Custom Fields | Shows the Custom Fields administration screen |
| Resource Custom Fields | Shows the Resource Custom Fields administration screen |
| Addresses | Shows the Address administration screen |
| Business Types | Shows the Business Types administration screen |
| Bookings | Shows the Bookings administration screen |
| Booking Addons | Shows the Booking addons administration screen |
| Membership Plans | Shows the Membership Plans administration screen |
| Messages | Shows the messages received |
| Reviews: Categories | Shows the Reviews administration screen to add review parameters for each category. For example, Quality, Customer Service, and so on. |
| Reviews: Recommended | Shows screen to add recommended audience for the listing or category. For example, For young people, Gizmodo, and so on. |
| Documentation | Access the JomHoliday documentation. |
System Configuration Checks
Any configuration problems or current configuration status is displayed in this area as shown in the following screen:
Screen 3: System configuration checks area