...
Extension can be downloaded from our Support Centre under Orders Tab:

Image Removed
Licence Key
Info
Your licence key and files to download are located on our support site: www.comdev.eu/support under the Orders Tab
Warning
Licence Domain Key is final. Once generated cannot be changed, please choose your domain carefully.
Step 1 -
Log in
Please login with the same user name / password, as when bought the component, otherwise your won't be able to generate the licence key or download files. Subscription is linked to your Joomla account, please use the same account when logging on to the support site. Alternatively you can also log in on www.comdev.eu and you'll be automatically logged on to our support site.
Step 2 -
Download files and generate licence key
You need to generate the licence key for the domain on which you shall be installing the software. For a better understanding, please refer to the following examples below which shall aid you to generate licence key for your software.
I shall be installing my software under the domain - domain.com with the URL to JomHoliday as
http://www.domain.com
  In that case what is the domain name I need to enter while generating the licence key? Since you are installing the software under - http://www.domain.com, the licence key for your software needs to be generated for domain.com without 'http://' or 'www'.

Image Removed
...
Other Examples: 
   
...
Component to be installed at
...
:
...
Domain for licence
...
...
:
...
...
http://subdomain.domain.com/scomponent/
...
:
...
...
...
:
...
localhost
...
...
:
...
127.0.0.1
Step 3 -
Install the licence key
After licence key has been downloaded it needs to be imported into the component itself. In order to do that, log in to your Joomla backend, go to component Dashboard by clicking 'Directory' under your Joomla components menu option. Under the Licence box you'll find upload licence form. Click on browse and choose downloaded licence key - key.txt. Licence will be automatically installed and enabled.
shopping web page: https://comdev.paytolbox.com. To access downloads, first you need to have a valid Order and Registered Account.
Info
If you have purchased our products without registering, you can still register using same email address to access your support and downloads panel (My Account).
Assuming that you're already on https://comdev.paytolbox.com click on the top right Login button (if you're already logged in than click My Account):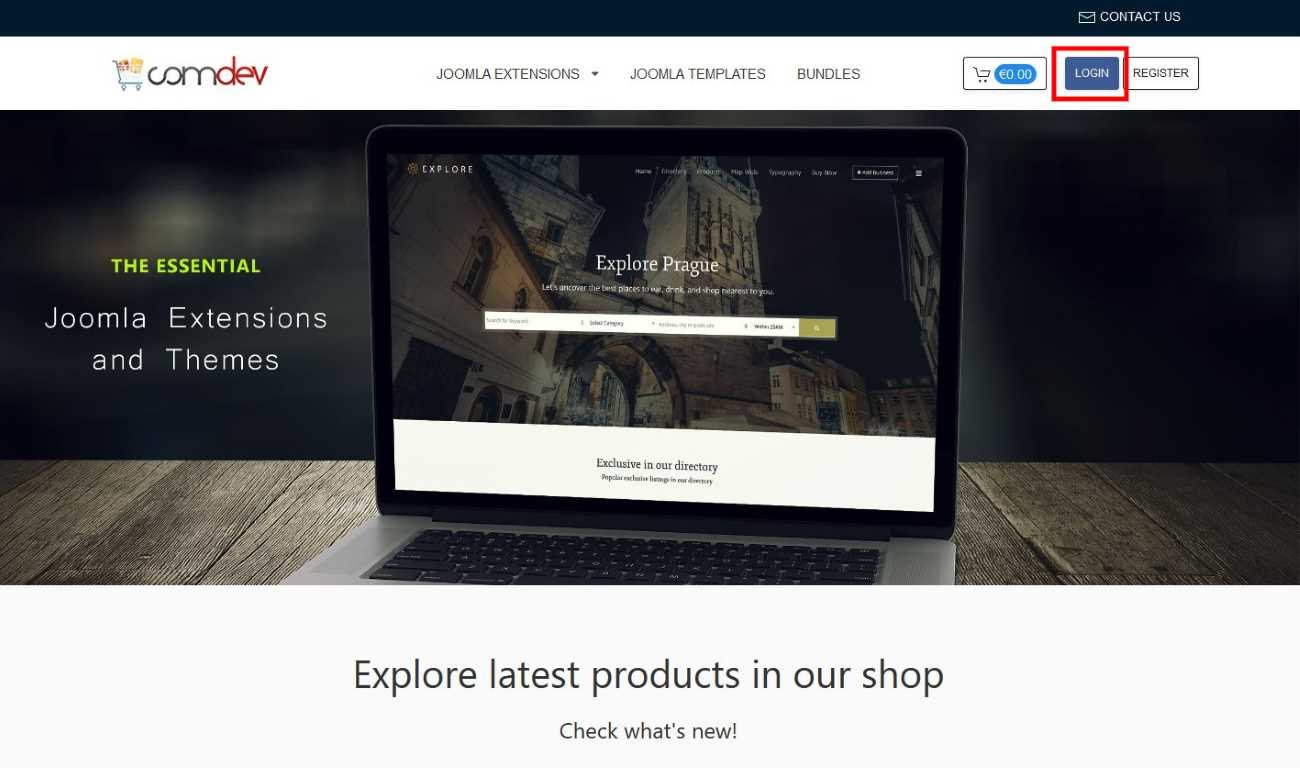 Image Added
Once logged in go to Orders and click On SHOW button next to the active (purchased) order:
Image Added
On the Order details screen there will be buttons for Download and Support tickets:
Image Added