Skip to end of metadata
Go to start of metadata
Joomla comes with a standard format for showing dates.
However, there may be a site you have created that will need to use a custom date format.
In this tutorial, I will show you a step by step method on changing your date format for articles.
This method will use no coding and will also introduce you to the Language Manager, one of Joomla's best and most underappreciated features.
Step #1. Create Language Override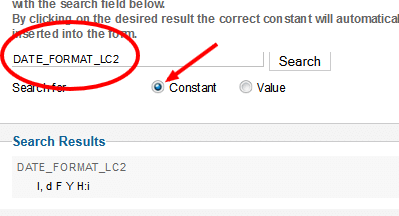 Go to Extensions -> Language Manager.
Click on Overrides tab.
Click on New.
Check the "Constant" value.
Search for "DATE_FORMAT_LC2".
Click on the Constant located under the Search Results.
Step #2. Change Date Format
Change the text for your date format to what you'd like.
Just remove the text and type in the format you'd like.
For example, if you want the date to display January 01, 2013, you would use : F j, Y